---
---
Cà Noale is located in the splendid uncontaminated scenery of the Euganean Hills Regional Park.
It has special accommodations obtained from the renovation of a typical stone building and benefits from a friendly family hospitality.
In addition to the wonderful place surrounded by nature, it is possible to enjoy the typical food of the locality, offered at the restaurant
Cà Noale represents the place to get away from the city to relax and repose in the midst of nature
The menu is in constant renewal following the passing of the seasons.
In this place you can share time with family and friends savoring at the table typical delicacies of the hills ,prepared with care is attention to nature.
It is possible to stay at Cà Noale, to extend your stay in the midst of nature, away from the city.
At the Cà Noale Farm, most of the products served are of their own production. Below are some demonstrations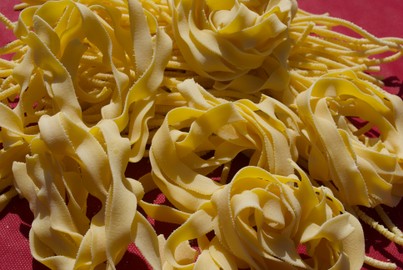 Typical first courses such as: "Bigoli, Casarecci, Fettuccine" are offered with our own, slow-dried egg pasta.
The wine on the menu is produced from our grapevines.


White: Tocai, Prosecco, Serprino

Red: Cabernet or Raboso
Artisan, Traditional Cakes.
Based on the seasons, we pluck the produce that the earth provides to bring genuine and fresh dishes to the table year-round.
The bread you find served at the tables is a fresh product of our own making that accompanies you in your meals.
In addition to the beauty of sharing at the table and in appreciating the unspoiled landscapes, it is possible to walk along the mountain trails being able to immerse oneself in the area by visiting waterfalls and forests.